Autism Defense Attorney
Harrington & Mahoney provides direct representation or works with qualified local counsel across the country on cases where individuals with ASD are being investigated or have been charged in connection with inappropriate online or offline sexual behavior. Many lawyers, even experienced lawyers, may say that Asperger's "doesn't make a difference" or that "it is not a defense." But we have shown that it does make a difference, and we have clients who have employed our autism attorney services, survived without going to jail, without being labeled as sex offenders, and who may end up without a criminal conviction.
About Our Autism Defense Lawyer Services
Mark has become the most prominent and experienced attorney in the country involved in defending a person with Autism Spectrum Disorder who, by this pervasive developmental disability, is unaware of the social and legal taboos and danger relating to child pornography and other problematic sexual behaviors "online" and "offline." Mark's efforts have led to prosecutors deciding to divert cases from criminal prosecution, agree to results that do not require sex offender registration or have resulted in judges imposing only probation supervision that involves therapy appropriate to the specific intellectual or developmental disability. Mark Mahoney is expending more and more of his professional time as a dedicated autism attorney, helping these individuals and their families caught in the nightmare of such prosecutions.
Leading Asperger's Criminal Defense Attorneys
Mark Mahoney's article, "Asperger's Syndrome and the Criminal Law: The Special Case of Child Pornography," available in the "Resources" section, is the sole source on the Web or elsewhere exposing the inappropriateness of scapegoating those with Autism Spectrum Disorder who are arrested and charged under the highly harsh federal and state child pornography and sex offender registration statutes. The circulation of this article and the information it has provided to clinicians, defense lawyers, families, prosecutors, and judges has resulted in several extraordinary results in these cases.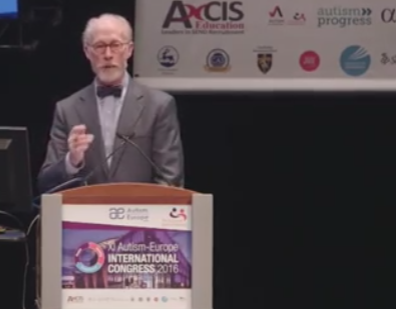 Pictured: Mark Mahoney speaking at the Autism-Europe International Congress, in Edinburgh, Scotland, in September 2016. You can see the presentations of Mark, Dr. Alexander Westphal, Dr. Rachel Lofitn, and Dr. Laurie Sperry on the National Autistic Society Web site.
Contact Harrington & Mahoney - Your Premier Autism Criminal Defense Lawyer
If you or a loved one needs an autism criminal defense attorney or lawyer, know that Harrington & Mahoney is one of just a handful of law firms in the United States capable of providing successful representation in these sensitive cases. Call or contact us today to schedule your initial consultation.